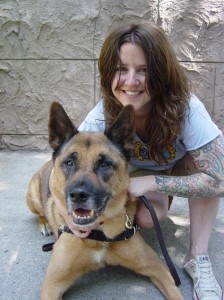 Renee graduated from the Animal Behavior Center of New York in 1999, is a Professional Member of the Association of Pet Dogs Trainers, has been certified by the Certification Council for Professional Dog Trainers since their inception in 2001, and is a certified tester for the AKC's Canine Good Citizen program. Renee is a provider member of the International Association of Assistance Dog Partners, and offers Medical Alert Service Dog training for clients with diabetes. Renee and her own dog (Jimmy) worked as a therapy dog team until Jimmy's retirement at age ten.
She has been interviewed by CBS News, The NY Times, CNN, Fox News, MNN, The NY Post, GOOD, Modern Dog,Esquire magazine and various other media outlets as a behavior expert.
Renee evaluates the adoptability of dogs with aggression problems for local shelters and rescue groups, conducts free agility and dog run etiquette seminars at local dog runs, and taught learning-abroad seminars and dog training certification programs to students from Japan for two years. She designed a written and interactive interview process for co-op buildings to evaluate potential canine residents, wrote several articles about dogs and kids for the Nick Jr. Channel's website, and has contributed articles to numerous other print and web-based outlets on topics ranging from training and behavior problems to breed traits. Renee has run a dog trainer internship program since 2002, and conducts "How to Meet a Dog" seminars for young children at various facilities throughout the New York area—a topic she co-authored a children's book about in 2009.
Walk This Way was voted into the top ten in Citysearch's Best Pet Services, and works with The Mayor's Alliance for NYC Animals.